Thunderbird Park is an amazing wildlife and geological rich oasis stretching over 112 hectares on Mountain Tamborine, Queensland, Australia.
Translucent rock pools, inspiring landscapes, towering rainforest and star studded skies all add to the magic of Thunderbird Park.
• Need transport to Thunderbird Park?
We have a Shuttle Service

• Find your way at Thunderbird Park with our Park Map
• Staying onsite will give you more time to experience  all fabulous Adventure Activities
• Great food & drinks served at the licensed Terrace Kiosk
• Don't Just Come for The Day
Stay and Play…Thunderbird Park™ for Camping or Cedar Creek Lodges for Accommodation 
Where Adventure Joins Nature
Enjoy an affordable mountain adventure, romantic escape, or family holiday.  
Thunderbird Park has gum studded, powered and un-powered camp and caravan sites along with bunk room camping.
Thunderbird Park's range of onsite adventure activities add to the fun. Fossick for gemstone-filled Thundereggs formed when dinosaurs roamed the earth.
Find treasure and meet Rockodile, Thunderbird Park's rock expert.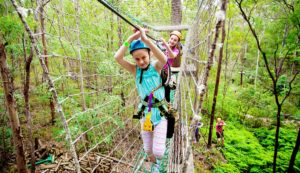 Tree Top Challenge, Australia's longest and highest
adventure ropes course.
Climb cable ladders, balance on rope bridges,
catch a flying fox, crawl through tunnels, maneuver on suspended trunks or jump from great heights.
Canyon Flyer Zipline, 
The Canyon flyer is the most extreme adventure attraction on the Gold Coast and is one of Australia's largest guided Zipline Canopy Tours.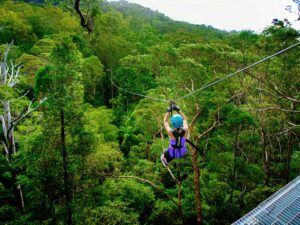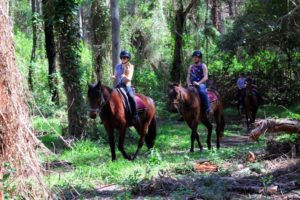 Horse Riding Hinterland, imagine clip clopping along the winding trails through the cool green rainforest. There's nothing to disturb the peace except the gentle sound of hooves and the birds. Trace the banks along the tumbling creek and climb upwards through majestic ancient gum trees. Reach the top and be captivated by breathtaking views of the valley below.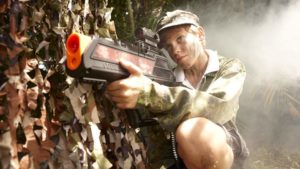 Stalk through the rainforest
while hunting for targets in our safe and thrilling Laser Skirmish activity! 
Laser Skirmish is a completely new game. Use safe and powerful laser guns and experience
 the precision and power of our advanced technology.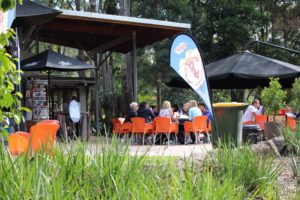 Set in the heart of Thunderbird Park is the new addition of the Terrace Kiosk with a wood fired pizza oven. The Terrace Kiosk offers affordable, tasty meals and snacks 
while the Terrace Deli sells essential items and take away frozen 
delicacies that are easily microwaved.
A hidden oasis just 60 minutes drive from the Gold Coast and about an hour from Brisbane. Come for the day or stay and play – this magnificent mountain resort is ideal for day trips, family holidays and everything in between. 
"The best holiday ever, something for everyone of our family members. Great food, well priced and our family holiday was everything we could have hoped for and more" – Jenny & Mark Moore