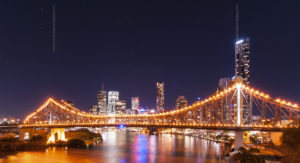 One of the oldest cities in Australia, Brisbane was founded upon the ancient homelands of the Indigenous Turrbal and Jagera peoples. Named after the Brisbane River on which it is located – which in turn was named after Scotsman Sir Thomas Brisbane, the Governor of New South Wales from 1821 to 1825 – the area was chosen as a place for secondary offenders from the Sydney Colony.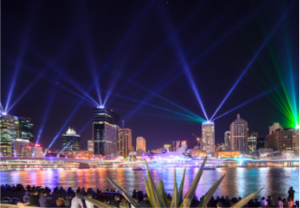 A penal settlement was founded in 1824 at Redcliffe, 28 kilometres (17 mi) north of the central business district, but was soon abandoned and moved to North Quay in 1825, opening to free settlement in 1842. The city was marred by Aboriginal conflict between 1843-1855, and development was partly setback by the Great Fire of Brisbane, and the Great Brisbane Flood. Brisbane was chosen as the capital when Queensland was proclaimed a separate colony from New South Wales in 1859. During World War II, Brisbane played a central role in the Allied campaign and served as the South West Pacific headquarters for General Douglas MacArthur.
Today, Brisbane is well known for its distinct Queenslander architecture which forms much of the city's built heritage. It also receives attention for its damaging flood events, most notably in 1974 and 2011. The city is a popular tourist destination, serving as a gateway for visitors to the state of Queensland, particularly to the Gold Coast and the Sunshine Coast, popular resort towns immediately south and north of Brisbane, respectively. Several large cultural, international and sporting events have been held at Brisbane, including the 1982 Commonwealth Games, World Expo '88, the final Goodwill Games in 2001.
Courtesy Wikipedia 2015