With its unusual and vibrantly coloured shops, art galleries, wineries, restaurants and cafes, Gallery Walk shopping precinct is definitely one of Tamborine Mountain's most well-known and popular visitor attractions. A must see place to visit whilst on Mount Tamborine!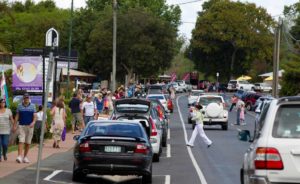 There is so much to see and do on Gallery Walk, with exciting shops full to the brim with original artworks, paintings and sculptures, glass works, pottery, ceramics, antiques, jewelry and clothing, to name but a few.
There are also tons of fun and frivolous shops selling gifts, sweets, nic-nacs and souvenirs of Tamborine Mountain to take home to your family and friends.
The crowds, the aromatic smells, the character of the locals and visitors alike add up to a wonderful shopping experience! Retail Therapy is good for you right?
A really indulgent and personally rewarding way to spend some time whilst visiting Gallery Walk is to 'Taste Test' some of the yummy award winning products of Tamborine Mountain. There is wine tasting at the award winning local wineries cellar doors – one of a kind locally brewed and award winning ales at the local boutique Brewery – delicious world class cheeses as well as cheese making classes and mouth-watering fudges with some naughty alcoholic adults only varieties to try.
And much, much more…..
When you have walked enough and your legs are feeling tired and you feel that you have 'shopped until you can drop', your mouth becomes dry or your tummy starts to rumble, take a seat at one of the aromatic cafes or restaurants, relax and soak up some of the magical unique atmosphere that is Tamborine Mountain's Gallery Walk…. a sandwich, a prize winning pie, a coffee, a cake or a three course meal, whatever you require and desire, there is something scrumptious and delightful to suit all tastes.
The famous Gallery Walk shopping precinct has many shops in the strip itself but also a number of important supporting businesses like accommodation houses just around the corner or local cafes, restaurants and a brewery so that visitors to the mountain can plan a short, medium or long stay.
Whether you are visiting Tamborine Mountain for a day or a week, a visit to Gallery Walk is a terrific way to spend an hour or two or an entire day.
Bus Stops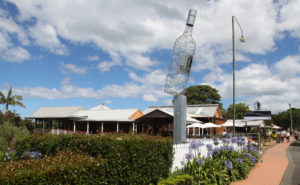 Coming Up, Gallery Walk, in front of Tamborine Winery or close by if full.
Going down, Crn Eagle Heights Rd and Long Rd, behind The Treehouse cafe.